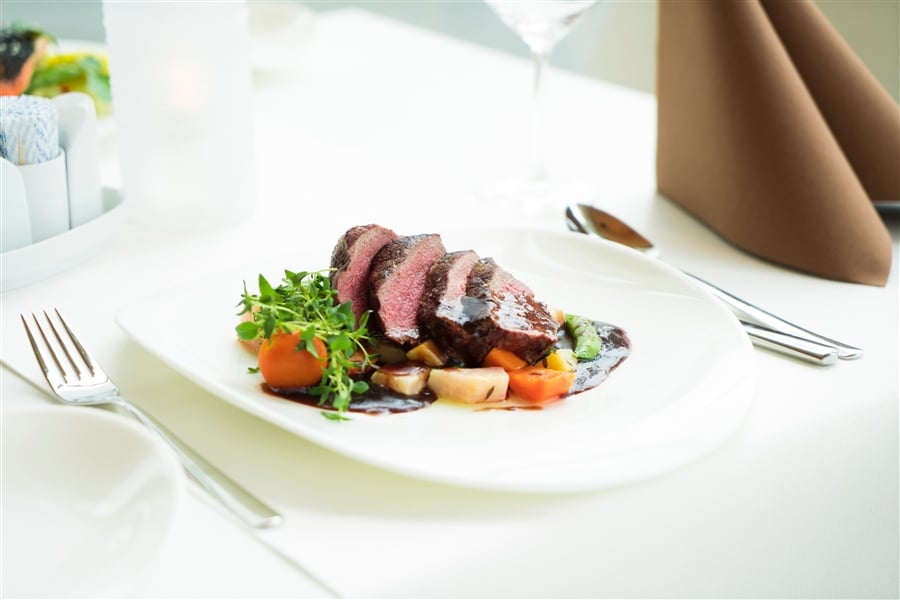 Your wedding menu should please all your guests, but many brides pick the same foods.
Everyone's tired of eating grilled chicken or poached fish between dances. Do something different by choosing one of these unique wedding menu options and wow your guests when it's time to eat.
1. Wood-Fired Pizza
Many catering companies bring wood-fired pizza ovens to wedding venues. Your guests can order individual pies with their favourite toppings and eat delectable slices after the cheese cools. You could even provide takeaway boxes if your guests live close enough to your venue to bring their leftovers home.
2. Sushi Station
Sushi is another crowd-pleaser that rarely shows up at weddings. Set up a sushi station where everyone can order what they like. It's easy to eat while mingling and gets bonus points for not being messy. It's also a friendly menu option for vegans and vegetarians because they can opt for sushi that doesn't feature animal meat or by-products.
3. Charcuterie in a Cup
Hardly anyone can resist a charcuterie board, so add one to your wedding menu. Your guests can grab preassembled charcuterie cups during your cocktail hour and snack away before your big meal begins. You can also keep them going after dinner since guests typically get a little hungry while dancing the night away.
4. Crab Puffs
Summer weddings are the perfect events for seafood, but you can skip the fish tacos. Opt for crab puffs instead to dazzle your guests with the cheesy, flaky pastry dough combined with crab meat that melts in your mouth.
5. Beer Flights and Bar Food
If your guests love breweries as much as you do, serve a sampler glass with every plate. They can try an IPA served with a hot dog and follow it up with a lager sampler paired with French fries.
6. Hot Pretzel Bar
You can't go wrong by surprising everyone with a hot pretzel bar. A caterer will make fresh pretzels all night long and serve them with an array of dipping sauces or cheeses for your guests to choose from. It's an especially great option for weddings with kids in attendance.
7. Fresh Gumbo
Wedding food is often bland, but you can add gumbo to your menu for an extra savoury kick. It's great in cooler weather when paired with cheese bread, rice or hush puppies. If you're worried about guests who are sensitive to spice, make a mild pot of gumbo on the side so everyone can enjoy it together.
8. Miniature Entrees
There's something extra fun about eating miniature foods. Choose whichever items you like best and shrink them to create a lively dining experience. Everyone could eat sliders and mini tacos or put tiny lobster rolls on their plates for dinner.
9. Sandwich Bar
Sandwiches are easy to customize and great for brides on a budget. They'll fit the vibe of your wedding perfectly if you partner with a caterer that uses hearty Italian bread and high-quality ingredients. You'll please picky eaters and hangry guests, especially with a gluten-free wrap option on the side.
10. Fried Veggie Rolls
Add fried veggie rolls to your wedding menu when you're craving something crunchy but still want to eat healthily during your big day. Your guests will get all the nutrients their bodies need with the satisfying crunch of the deep-fried egg roll wrap. Pair your rolls with a protein to keep everyone satisfied, like roasted salmon or tuna salad.
Find Unique Wedding Menu Options
There are so many unique wedding menu options you can choose from to wow your guests. Consider which foods you'd most look forward to on your big day and reflect on everyone's potential food allergies. You'll find the best menu options for everyone's dietary needs while impressing them with a dinner that's out of the ordinary.
Have a look through New Zealand's most comprehensive list of wedding caterers and food trucks to find something that suits your style.
Author Bio: Cora Gold has a passion for writing about life, love and wedding inspiration. As the Editor-in-Chief of women's lifestyle magazine Revivalist, she loves connecting with others and curating the best content, from weddings to travel and more. Follow Cora on Facebook, Pinterest and Twitter.