If you've got your sights set on New Zealand for your special day, we're so excited for you. We love this country, and everything it has to offer - the most breathtaking landscapes you will ever feast your eyes on, amazing people, and the best wedding vendors you could ask for.
We understand that it can be a little bit tricky planning your destination wedding in New Zealand if you're not in the country, so that's where we come in. We've put together some information for you, in regard to finding the perfect wedding celebrant for your big day.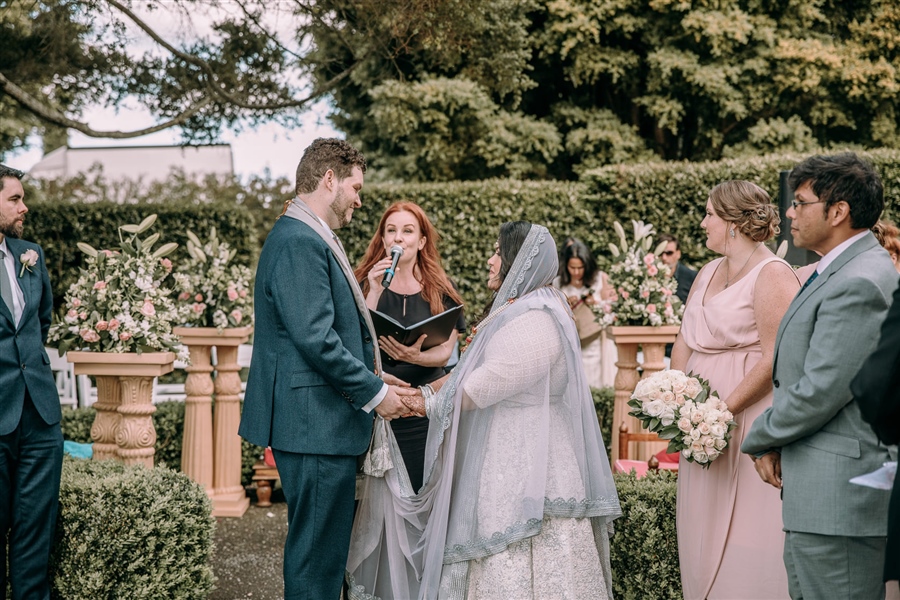 Celebrant Jacqueline Nairn at Allely Estate. Photo: Katrina Cooke Photography
Finding the right celebrant for you
Choosing the right wedding celebrant is a crucial step in planning your wedding. A wedding celebrant sets the tone for your ceremony and will guide you through one of the most significant moments in your life. Here are a few tips to help you choose the right celebrant for your special day:
Determine your style
Before choosing a celebrant, it's important to consider the type of wedding ceremony you want. Do you want a religious ceremony, a non-religious ceremony, or a spiritual ceremony? Knowing your style will help you narrow down your search.
Check their schedule
It probably goes without saying, but the most important consideration to make is that the celebrant you choose is available on the day of your destination wedding in New Zealand. Depending on your circumstances, you may be able to afford a little flexibility with your own travel dates.
Most celebrants book up quickly, so it's important to start your search early and never take for granted that they will be available, just because it's months or years down the track.
Review their portfolio and feedback
Take a look at the celebrant's portfolio to see their style, the types of ceremonies they've performed, and the testimonials of past clients. This will give you a good idea of their experience and expertise.
Schedule a consultation
As you aren't in the position to meet with potential celebrants in person to discuss your ceremony and get to know each other, take advantage of technology and schedule an online video chat.
It's a really good idea not to skip this step, as it will give you a chance to see if your personalities mesh and determine if the celebrant is the right fit for your wedding.
Consider your budget
Celebrant fees vary widely, so it's important to consider the cost when making your decision. Make sure to discuss all costs and fees with the celebrant in advance to avoid any surprises.
Finding the best celebrant for your destination wedding in New Zealand
At My Wedding Guide, we have compiled the most comprehensive directory of the best wedding celebrants that New Zealand has to offer. Nothing makes us happier than connecting couples with a celebrant they feel comfortable with, who elevates their ceremony and truly makes it a wedding to remember.
We should also mention that if you're on the lookout for New Zealand wedding venues, photographers, caterers, music, and so much more, that we also have a guide to those services. In addition, our website is home to some handy resources for brides and grooms everywhere.
So, whether you're local, or you're international and are planning the destination wedding in New Zealand of your wildest dreams, we can provide the tips, tricks, and support to help you find the best wedding celebrant for you.
See our other articles about Marriage Celebrants in New Zealand