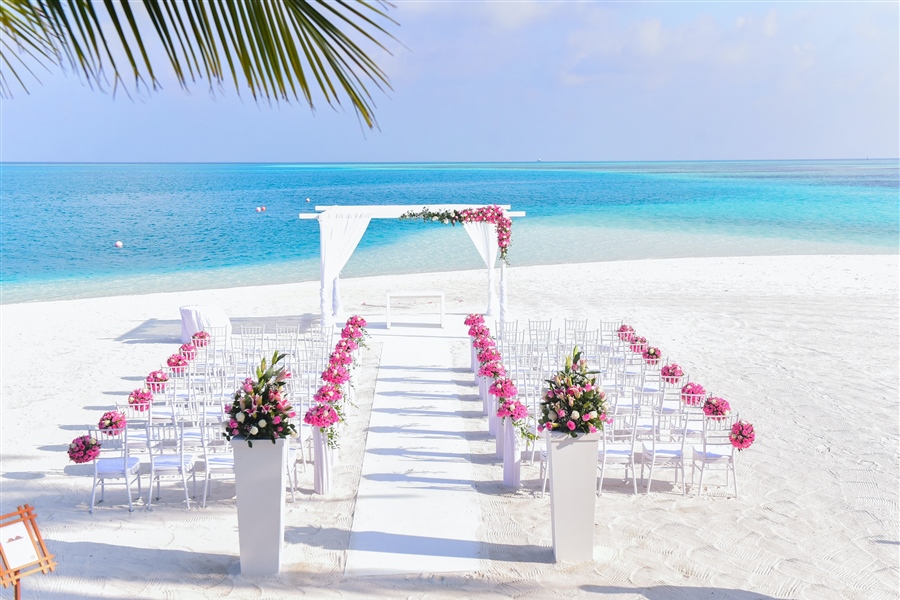 Have you been dreaming of getting married on a tropical beach or just somewhere "different"?
Some couples are afraid that inviting their friends and family to a far-off location will seem rude. However, there are many good reasons to consider a destination wedding.
Although it may sound counterintuitive, destination weddings can actually be more practical than local ceremonies. Of course, the perfect choice is unique to each couple — it all depends on your goals, wedding must-haves and budget. Here are ten reasons you should consider a destination wedding.
1. Simplicity
Weddings can be stressful, especially in the last few weeks before the big day. If you have a destination wedding, you can outsource most of the planning to a resort or local wedding planner. You won't have much to do other than buy a dress, invite guests and book a flight. The point of a destination wedding is the experience, not the details.
2. Length
Many people combine destination weddings with their honeymoon and it can also be a mini-vacation for some of the guests. Instead of celebrating for several hours, you can have fun with friends and family for several days. The extra time away from work means everyone has time to relax and get pumped about the ceremony. You can use this time to connect with family, share memories and get excited about the future.
3. Exploration
Destination weddings are also an exciting opportunity to explore a new place. If your family gets there early enough, you can make plans to go on adventures in the local area, try unique cuisine and connect with the people who live there. The excitement of exploring a new place can make your wedding even more memorable.
4. Honeymoon
Many couples leave right after their ceremony and travel to a special place for their honeymoon. However, you can combine a destination wedding with your honeymoon to save stress and money. It will be incredible to wake up the day after your wedding and already be at your vacation location. However, you may want to change hotels to avoid running into family members. Or maybe you want to hang with them!
5. Cost
If you want to get married on a small budget, a destination wedding is probably not for you. However, travelling to a destination to get married can often be less expensive than having a local wedding. The average cost of a wedding in New Zealand is $30,000, not including the honeymoon. Destination weddings, on the other hand, can cost less.
6. Guests
Getting married in a far-off location may be perfect for you if you want to have a small wedding. Many people can't afford destination weddings, which means your guest list will be small. Of course, you should ensure that your close family and friends have the time and finances to attend before you send out the invitations.
7. Photographs
Most destination weddings occur somewhere with a beautiful backdrop. Whether you're married in front of mountains, waterfalls or a famous building in Europe, your venue is sure to be beautiful. You can save costs on decor and enjoy gorgeous photographs of your ceremony for years to come.
8. Freedom
Some couples like to have a wedding with many traditional elements. However, heading to a new destination will make your ceremony automatically unique. You can ditch the white dress or traditional formality if you want. As long as you exchange vows and legally get married, every other element can be as unique as your venue.
9. Memories
Everyone wants their wedding day to be memorable. However, most couples find that these special moments fly by almost too quickly to savour. Getting married at a special destination ensures your wedding day will be memorable for all the right reasons. You'll have the time and space to give your marriage the attention it deserves.
10. Bonding
Relationships are the best part of life. Destination weddings offer unique opportunities to spend time with loved ones before your ceremony, making special memories and treating them to a well-earned vacation. Afterwards, you can enjoy the first few days of married life together in a gorgeous location. These bonding opportunities aren't often matched in a traditional setting. It can also provide for special memories to share with your closest family and friends who attended your special day and holidayed with you afterwards.
Why Not Go Away?
A destination wedding may not be as extravagant as it feels. Think about your goals as a couple and consider whether going away to get married may be right for you. If you'd like to celebrate for days, get married at a beautiful location and have a small guest list, a destination wedding may be ideal.
My Wedding Guide is the most comprehensive wedding website and app for planning your wedding in New Zealand or the Pacific Islands. Browse our site for Pacific Island Wedding Venues and travel agents.
Author Bio: Cora Gold has a passion for writing about life, love and wedding inspiration. As the Editor-in-Chief of women's lifestyle magazine Revivalist, she loves connecting with others and curating the best content, from weddings to travel and more. Follow Cora on Facebook, Pinterest and Twitter.