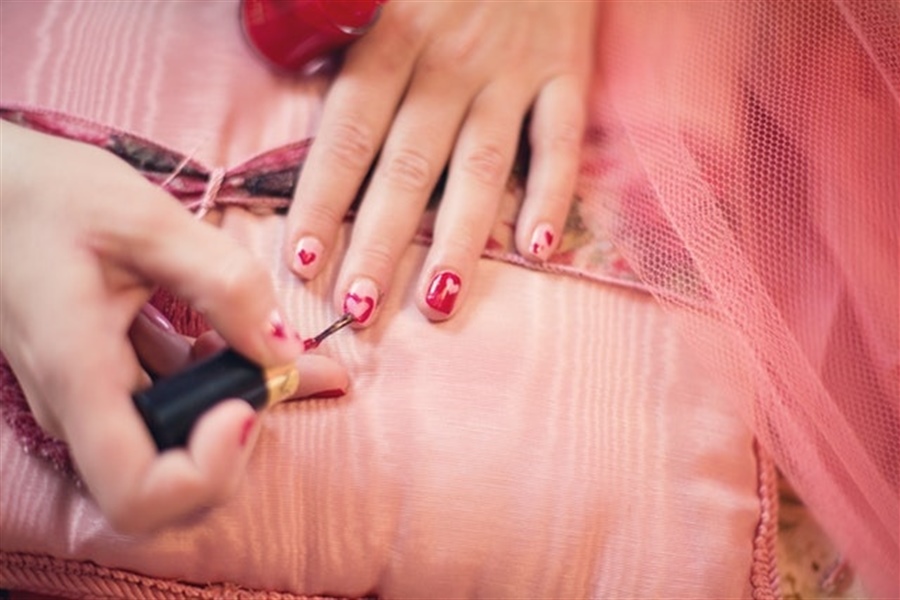 There's so much more to wedding nails than a manicure and some gel polish. Nail art has become almost a passion for some brides and today we're going to show you why. We're sharing seven adorable bridal nail art ideas for you to consider as a part of your wedding beauty preparations.
7 Glamourous Ideas for Your Wedding Nails
Wedding nail art gives you another way to express your personality and help you feel gorgeous on your big day. We think your nails should be seen as being almost as important as your makeup. After all, they will be a focus of everyone's attention when you hold your bouquet and show off your ring. You don't want to spend eternity looking back at wedding photos of grimy or tattered nails, do you? Here are seven bridal nail ideas for you to consider:
Ivory glitter nails – for something a bit more contemporary than French polish, choose an ivory base coat with gold glitter sprinkles on the top. Feeling fancy; then add some tiny golden swirls instead of the glitter.
Something blue – don't hide your something blue under your dress as a garter: wear it on your nails. A pale baby blue would look amazing, and your nail artist could even decorate individual nails with a complementary colour too. Why not have your nails painted with tiny ribbons and bows?
I Do nails – let your ring finger do the talking for you. Have your nails painted with your choice of base coat colour and the words "I Do" painted on your ring finger. Be sure that the words face the right way and not upside down though.
Dress matching – if you have pearls, sequins or gems on your wedding dress, bring them across to your nails too. Your bridal nail artist should be able (with advance notice) to source appropriate decorations to attach to your nails for your special day.
Snowflake nails – getting married in winter? A lace snowflake design would look stunning on a nude nail undercoat. You could choose to have all your nails painted with the design or just one for an understated look.
Ombre nails – a modern ombre nail appearance is modern and elegant. Aim for the darker colour towards the base of your nails, going lighter in shades as you move towards the nail tips. There is a true skill in blending the shades together.
Hand-painted – true art (almost). Nails can be hand-painted with delicate designs and made to look like anything! From korus to kiwis, strawberries to Aztec designs, there really is no limit: other than the skill of your nail artist!
Finding the perfect nail artist is easy: find them in our bridal directory. From Northland through to Southland, our bridal directory is the perfect resource for every bride looking to make her wedding day special.