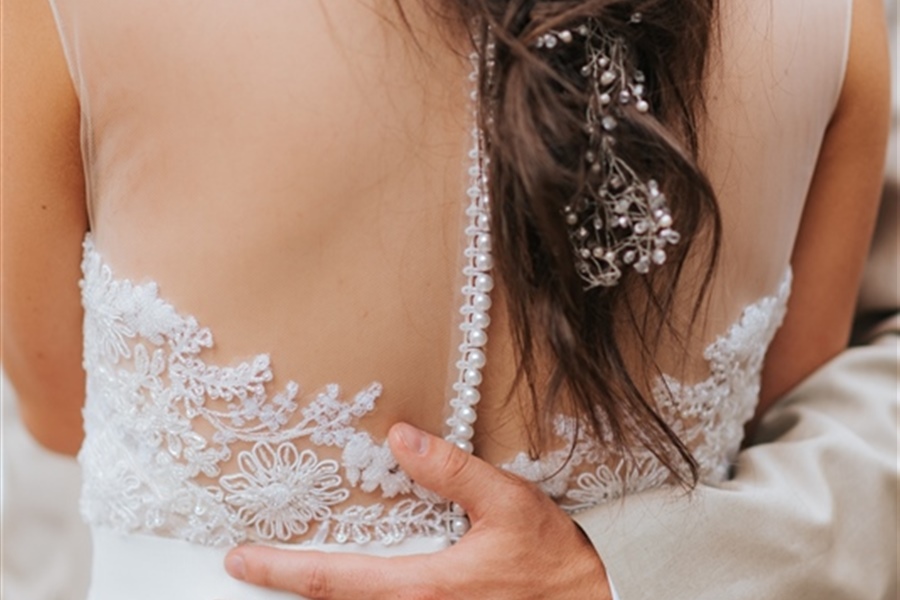 Love them or loathe them; traditional wedding hairstyles have a firm place in the heart of many brides. If though, you would prefer more contemporary and stylish wedding hairstyles, you've come to the right place. We've put together a beautiful collection of seven hairstyles which are perfect for the modern bride…
7 Gorgeous Wedding Hairstyles for the Modern Bride
You want your hair to look fabulous for your wedding day and are on the lookout for something different. Well, you've found it! We've made a list of seven stunning ideas perfect for a bride who seeks a more modern or contemporary hairstyle.
Soft ponytail – your hair is gathered and gently pulled back into a loose ponytail. A few tendrils at either side help soften its appearance.
Twist – long hair looks amazing in a twisted ponytail. Gathered-back as usual, the hair is then twisted together in two long pieces.
Bow ponytail – another for longer hair, it is pulled back and tied with a large bow. Below the bow, the hair is gently curved to create waves cascading down your back.
Centre part with tiara – for this, think of Princess Eugenie. Your hair is parted in the centre, and either pulled or styled back towards your neck. A tiara is worn on top of your head, a little behind the centre part, and a few wispy tendrils are let down on both sides.
Textured up-look –medium to long hair lengths look fabulous with a textured up-look. Hair is loosely gathered up, woven and twisted amongst itself until it has a windswept appearance. Hair ornaments such as tiaras, jewellery or fresh flowers are added and its bohemian rhapsody my dears!
Tousled waves – great for all hair lengths, except the super short. Your hair is left loose and flowing, but has natural-looking waves in it, just as it would if it was freshly washed and dried. Ideal for the no-fuss bride.
Top knots – while a bun at your neck may be too traditional, moving it to the top of your head brings a whole new look. Whether you choose to have a formal or more relaxed looking bun, this up-do is certainly eye-catching.
We have some of New Zealand's most talented wedding hairstylists listed in our Wedding Directory. From the Far North down to Bluff, they create simply stunning wedding hairstyles! For more ideas and inspiration, be sure to check out our growing variety of Wedding Hair & Makeup resources today.