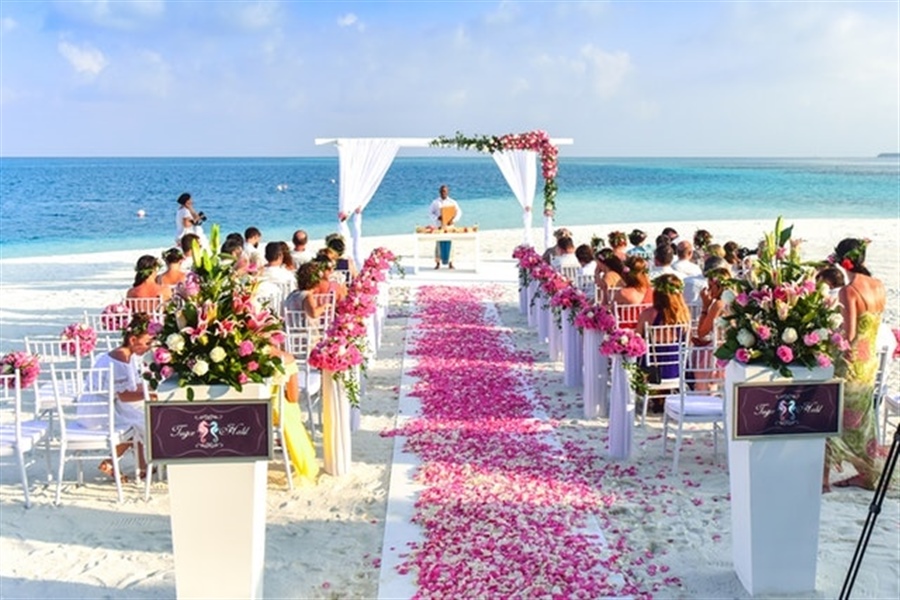 Get Your Florist Sorted Early
Once you have decided on the venue and the wedding date, the next thing you should do is contact a florist. They are often booked months in advance, so make certain to reserve your date early. Forget organising the flowers yourself, as you are better off leaving this job to the professionals!
It's essential that you know exactly how much of a flower budget you have at the beginning. Your florist will want to know what that is so they can suggest the best flowers for you, and also in the right quantities.
Organise the Wedding Flowers for Your Wedding Party & Ceremony
Work out where you need the flowers to be at the ceremony (on an archway, on chairs, pews etc). Also, confirm how many people in the wedding party need bouquets or boutonnières. Don't forget nosegays for the in-laws, plus petals for the flower girl's basket. Decide on whether everyone's flowers should match, be unique or should be contrasting to the bridal party's clothing early on too.
Do You Need Wedding Flowers at Your Reception?
Will you be using flowers on tables at your reception? Make certain you know how many tables there will be, and if they will require a small, medium or large arrangement. You'll find that a small one normally has 10 stems, a medium has 15 to 20, while a large one will normally have about 25 to 30 stems. If you are having centrepieces, ask your florist for their height recommendations, as a low floral centrepiece will encourage guests to socialise.
Deciding on the Colour of Your Wedding Flowers
What colour flowers do you want to use? Do they need to match your wedding theme? Do you want the colour to stand out or should it blend in with the overall colour scheme of the wedding? Will the dresses and suits fit the use of a particular variety or varieties of flowers? Will your choice of flowers be in season for your wedding, or should you choose a different variety which still has your pick of colour?
Your next step is to contact one of our many wedding flower vendors. They're experts in what they do and will happily help you choose and provide the most gorgeous flowers for your wedding!