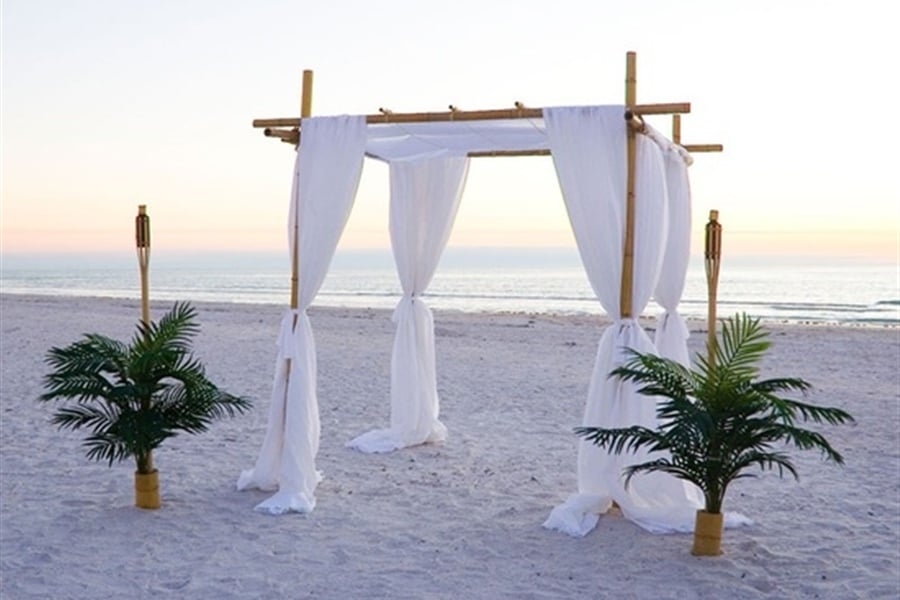 Planning to marry on a tropical island, avoiding the wet, cold New Zealand winter?
What a great way to combine your wedding ceremony with a fabulous honeymoon for you and a holiday for your guests. Destination weddings have other benefits other than gorgeous white sand, exotic sunsets, and palm trees, they can be cheaper than a wedding at home.
There are a few options for planning your wedding from a distance.
Go through a resort and opt for their wedding package, by far the easiest and hassle free option but can be the most expensive although often different budgets are catered for. Contact a local wedding planner and get them to make arrangements on your behalf, one point of contact and potentially more say on your total spend. Plan it yourself by contacting local vendors. This can save you money if you have the time and inclination.
May to November are winter months in the islands, therefore, cooler and with lower humidity than the peak of summer but still much warmer than temperatures at home with average temperatures of between 20 – 300.
Applying for your marriage license:
In Fiji and Rarotonga you will need your birth certificate (or a certified copy) and passport to apply for your marriage license as well as divorce papers if applicable and, if your previous spouse is deceased, a death certificate. Allow three working days for the license to be issued once the completed documents have been provided to the local registrar. For other destinations check the requirements before planning your travel, you may have to be in the country for a set time before your wedding to allow your license to be processed.
General Hints
Booking early often ensures the best deals for accommodation and travel. Combining your ceremony and your honeymoon at a resort is often rewarded with accommodation discounts. Make sure you provide your guests with all the relevant information early, send a save the date letter to give them plenty of lead time to book their travel and take advantage of any early booking discounts. Do some research on weather and temperatures at different times of the day when planning your ceremony time, temperatures are usually cooler earlier and later in the day, the perfect excuse to get married against the backdrop of a tropical sunset. Travel insurance – ensure you book this necessary safety net. If you're contacting vendors and venues ask for references, do they have details of a New Zealand based couple with whom you can chat about their experiences?
Enjoy your destination wedding, your photos will be fabulous and you will have a head start on your honeymoon!