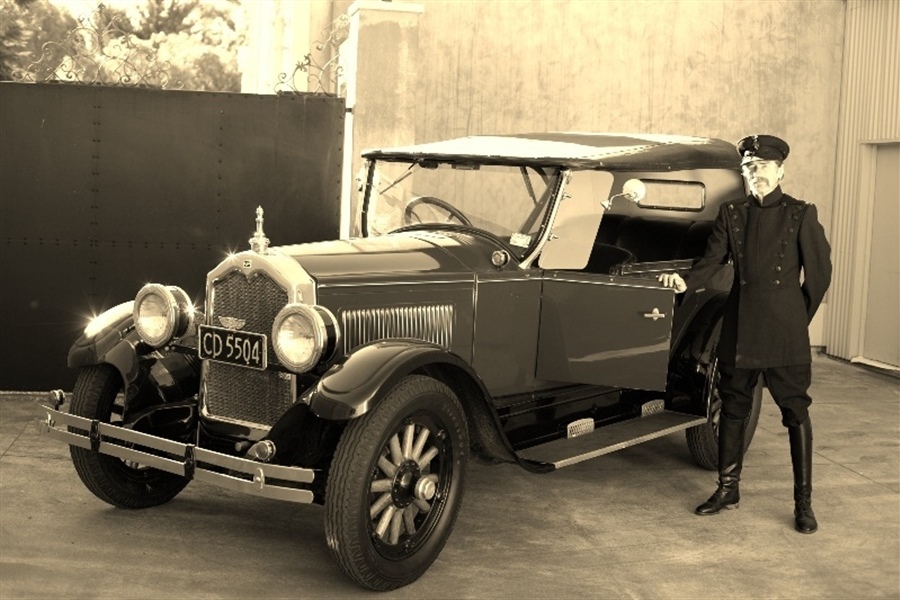 Who wouldn't want to arrive at their wedding in style?
That time-honoured tradition of being chauffeur driven to your wedding in an elegant and sophisticated vintage car!
Congratulations on deciding to do vintage, now just what do you need to know?
So you've booked the ceremony & reception, got a theme, bought the dress, got the caterers and photographer; its three months before the big day and someone mentions the car? Yes, all too often the car is a last minute plan but remember it's the vessel that's going to get you to the wedding on time!
When thinking of a bridal car you need to take into consideration your locations, timing, photos and of course weather…
Locations
Make sure your driver has all the information; directions, pick up and drop off points, the right entrance to event and any changes or stops along the way.
Couples often underestimate how long a journey can take in a vintage car. Depending on your choice of car a vintage ride could take double the time of a modern car.
The car should arrive at least 15 minutes prior to departure time. This allows for introductions, photographs, last minute checks and seating; it can for instance take as much as 5-10 minutes for the bride and bridal party to be seated. Also you should allow upon arrival approximately 15 minutes alighting from vehicles and posing with them for photographs. Making generous allowances for time prevents you from having to rush from door to door.
From ceremony to reception, do you want time to 'lose' the crowd and perhaps spend some quality time together?
Remember to allow time for photographs; for example has the photographer allowed time for a stop en route for photographs? The beauty of vintage cars is that the pictures can look fantastically timeless and you will certainly want plenty of pictures.
Make sure your driver and photographer both have mobiles and each other's numbers; that way you won't lose each other on the way to the photo location.
Colours are crucial to your photos so be critical with the car colour interior and exterior, the location and backdrop to pictures and of course consideration to the colour of the rest of the bridal party.
Weather
The dreaded has happened and the heavens open: is the car open-top? If so, is there a contingency plan? Does it carry umbrellas? What colour? They may have to appear in photos.
Many vintage cars do not have heaters. If not, is there a blanket?
If it's a hot day, do they carry suncream? Water? Chilly bin? Do remember that you could be spending a lot of time in and near the car for photos.
Now you've thought about all your options it's time to source the car….
Hire, Beg & Borrow?
Its always fantastic when a friend or family member offers to drive you or offers the use of their car for the day. There are however some considerations to be made before accepting this offer straight away; the same can be said when hiring a company;
Looking at vintage cars and hire companies you will be surprised at differing standards. Check the vehicle thoroughly, look at the quality of the paintwork, the exterior and interior for rips and quality of finish-this can often be a sign of bigger problems.
Most vintage car owners maintain and service their vehicles regularly to ensure they have no mechanical issues on the day. Unfortunately something can always go wrong; do you have a back-up plan?
Some legal points; if you are paying for the service the company has to be licensed and the cars all have to go through a COF (certificate of fitness), more stringent requirement than the standard WOF. This also regulates the amount of passengers allowed per vehicle. It is illegal to use a non-licensed car if you are paying for the service.
Costing
The prices when hiring a vintage car can vary hugely as can the standard of service; the best price is not necessarily the best for you on your day. Consider these questions…
Do they have contingency planning?
Do they charge by hour, day rate?
Will the car be exclusively yours for the day or will they be off to another job?
Does the chauffeur wear a uniform?
Do they greet us, open the doors?
Will they appear in photos?
Do we get ribbons, window dressings?
My advice is to check out the quality of the vehicle you are about the use for your big day and when you have made your choice, utilise the car to the best of your ability; for instance if you have them for the entire day, will they be willing to give other people rides? Lets not forget the mother of the bride! It's often overlooked how the mother of the bride arrives at the church; could there be big discounts for a 2nd car? After all, what's better than one car at a vintage wedding? Two!
Like most wedding matters, planning and research is the key to choosing the right car and driver on your big day. A little forward planning and you will have a sensational vintage experience enhancing your big day, providing precious photos and memories to last a lifetime.
Good Luck!