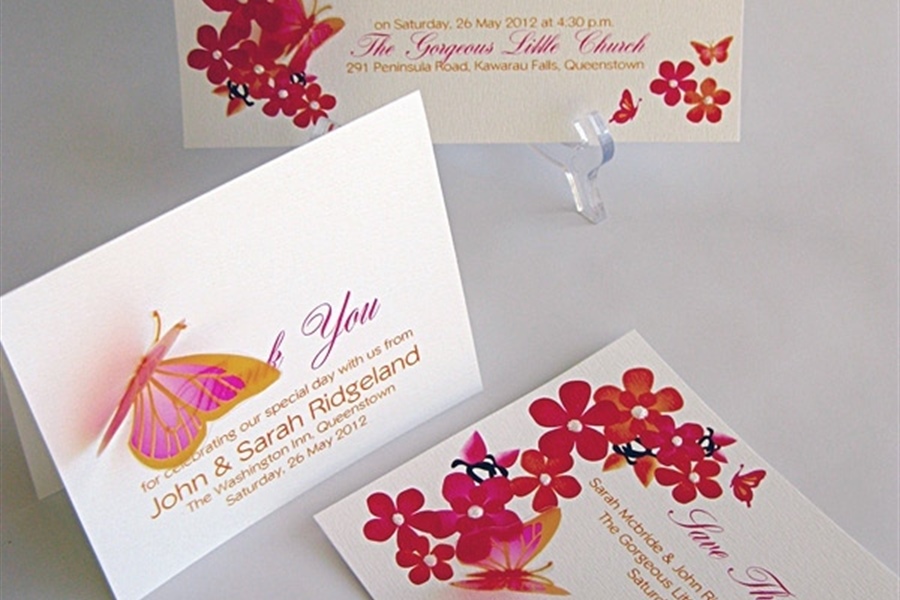 When planning your wedding, there are so many things to think about and, in most cases, this is probably the biggest event a bride or groom may have ever planned before. While weddings have many aspects, your stationery will start and end your entire event. It plays a significant role and it can tie everything together. In most cases, your stationery is the first peek for your guest(s) to see setting the tone for your event.
I suggest thinking about your entire event and ask yourself these five questions.
When are you getting married (date and time)?

Where are you having your ceremony and reception?

Are you having an after event like a barbeque the day after?

What colours or theme are you planning?

When you imagine our reception venue, the tables and your guests – what do you see?
When planning your stationery, first consider what you need first. If your budget allows, then add those definite items you want onto your list. Three important pieces of wedding stationery to have are invitations, escort/placement cards, and thank you cards.
Whats Next?
Wow! Today there are so many ideas and endless possibilities. Your stationery can range from being generic, eco-friendly, classic or contemporary, elegant and sophisticated, funky and loud, clean and modern, trendy and upbeat, and the list goes on.
The question is whether you make your own stationery or purchase it made for you from on-line, a print shop or stationer.
Important to Note: A Wedding Stationer is someone who specialises in wedding stationery and can advise you every step of the way. Wedding stationery has a unique set of rules – etiquette – and while you may not know them others receiving your stationery might. So, it is best to find out and ask a few questions.
Make Or Buy?
Personally, when I need new clothes, I go shopping. I can't wait to find that shop, which has the perfect outfit. Once I do find it – I just love it. If I can afford it, then I buy it. I can try to sew that "perfect" outfit, but why? I might have a nervous breakdown trying as I am not gifted at sewing. However, if you are one of those clever individuals out there who can see an outfit or purchase a pattern and "presto" make it – then go for it – personally I am envious.
So, if you are thinking about making your wedding stationery, then my suggestion is why not make up a sample set. If you purchase stationery, you would expect to know what it looks like. So, take time and plan a sample set just for you. This is a great way for you to think about how much you might be spending with all those extras, then times it by how many you need and evaluate how many mistakes you made or will make. If it fits in your budget, the results are "perfect", and you have time, and then why not have fun making your wedding stationery.
If things did not go as planned when making your wedding stationery or you always were going to buy your wedding stationery, then it is time to plan what you want. If you decide upon a Wedding Stationer, then in most cases they will help sort options.
I would suggestion asking these three questions.
1. When To Book?
As soon as possible – let your stationer know you are interested in their products and what you are planning. Ask if they are available and book. If they are busy, you may want to book a bit earlier.
2. How Long Can It Take?
Before starting, you will need dates, times and venues. It is important think about what your guests might need and if you need extra or detailed information like accommodation, dress code, map, rain card, and more. Ask how far in advance or when the last minute is your stationer can have everything comfortably ready for your event. Some stationer's will print the entire set at once, while many complete the items as required.
3. What Am I Buying?
Always essential to ask what the price includes – please check. Does it include GST, delivery/courier, postage, personal customising of colours and images, incorporating an image, printing of individual guests names, envelope printing (does this included guests names and addresses). Are there any other services that are available? Ask if there is a consultation, design or set-up fee and ask what the amounts are, what the services include, and can they be charged more than once.
Whether you are making your stationery or buy it, remember to have a few people (family or friends) proof read everything before you start to print. Save a set of your wedding stationery for your memories.