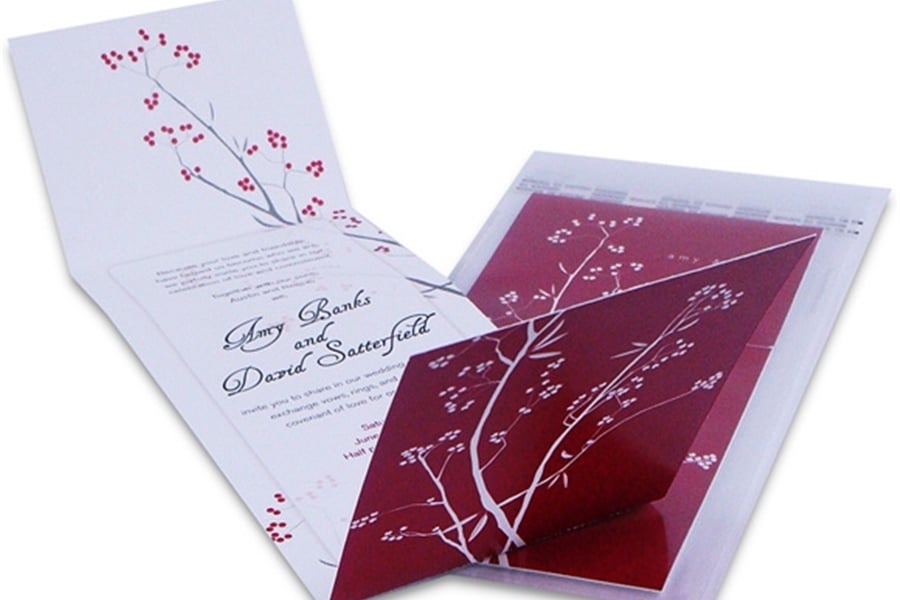 Wedding invitations are one of the few pieces of mail that people enjoy receiving. It's fun to open up that envelope knowing there's a custom invitation inside. But amidst all of today's junk mail, how can you make your envelope stand out to get your guests' attention?
There are actually several ways you can make your mailing envelope as unique as your wedding invitation.
<h2>Shape</h2>

With so many wedding invitation designs available today, you could easily select a uniquely shaped style such as square or tea length. The mailing envelope will then reflect that same distinctive size to fit the invitation.
<h2> Style</h2>

Another option is to select a Seal and Send wedding invitation style. This all-in-one invitation is designed to be folded into a self-mailing piece eliminating the need for a mailing envelope. The response card is attached to the invitation so it can be easily detached by your wedding guest along the perforation. This also eliminates the response card return mailing envelope and saves on your postage cost as it only requires a postcard stamp.
<h2>Color</h2>

How about using color for emphasis? Some wedding invitations now come with colored mailing envelopes. In particular, self-mailer invitations often include a colored envelopment. The envelopment holds your invitation card and has a built-in pocket for keeping any extra enclosures. It is then folded up wrapping around all your invitation pieces to become your mailing envelope.
<h2>Decorative Seals</h2>

Adding a seal to your wedding invitation envelope could be that extra touch you've been looking for. Even though your envelope is sealed, you can choose to place a special seal on the back so it gives the illusion that the seal is actually holding the flap down. There are many seal design choices, from monograms to first names to specific themes. Their appearance can be clear, white, silver, gold, embossed, etc.
<h2>Custom Wedding Stamps</h2>

There are now websites that offer you the option of creating your own personalized postage stamps using an uploaded photo or choosing from ready-to-use wedding designs. This is a great way to dress up your wedding invitation envelopes to reflect your personal style.
You want to be sure your wedding invitation gets the attention of your guests as soon as it arrives in their mail and that it doesn't get lost in their sea of junk mail and bills. Using any of the above suggestions will surely accomplish this and will start building their excitement even before they see your actual invitation.