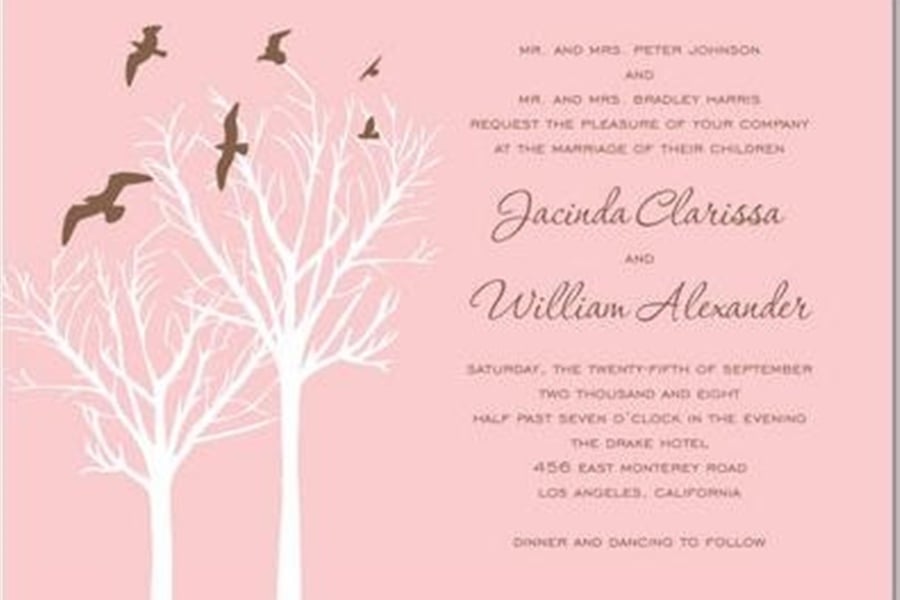 In the early days, the wedding invitation wording is not a matter to be decided by the bride and groom because the parents are responsible for the entire planning of the occasion. The wedding invitation wording would ostensibly include phrases such as "cordially invited to the reception of…" and "we would like to request your presence at our daughter's/son's…".
These are the typical diction in the reception card and they are determined by the party funding the entire occasion. There are many subtle methods in indicating the funder by using the proper phrases. If the bride's parents are footing the bill for the function, then they would include the groom's parents in the attendance request. If both set of parents are organizing the event, then the names are usually placed in the same spacing.
If the parents of the bride or the groom are divorced and wish to pay for the wedding, then the single name of either parent is featured in the phrase, excluding the no-paying parent.
Wedding invitation wording is the key to determine the level of detail and sophistication of the organizers. Choose the phrases carefully and proofread them to ensure that they can be printed out and distributed to the attendees without being insensitive to any of the parties. Find out the accurate spelling of the guest's name, title, home address and their family's availability. For instance, if you are aware that the guest is no longer married or recently suffered an atrocious divorce proceeding, then do not request the presence of the ex-wife or former husband.
If it is the occasion is less traditional and unconventional, then you could opt for a more personalized theme in the diction. The organizers can include a personal message for the guest especially if they are close with the organizers.
Other actions which can help the guest feel more welcomed for the ceremony then you can include a detailed venue and location map. The direction to the reception is the key to getting to the occasion. There is a fad among American and European couples who choose destination matrimonial ceremonies. These are non-typical types of ceremony which has more liberal and less-constrictive in terms of phrases in the card.
For more ideas on the correct phrases to choose from, check websites which are dedicated to the matrimonial theme of your choice. Make sure that the phraseology is suitable for the guests and confirm the final choice of written speech with both the bride and groom's respective parents.