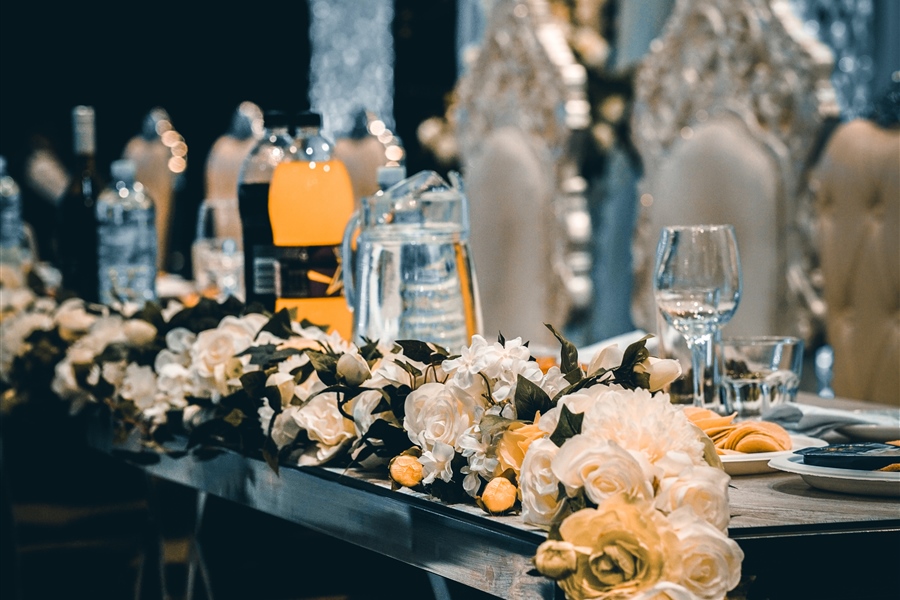 Figuring out what your wedding will look like is a big decision.
Setting a theme for your wedding can help guide all of your decisions, from decor to food to music. While you can search "popular wedding themes" online to find some ideas, it might be more effective to look inward and find something that fits you and your partner's unique story.
If you don't know where to begin, here are some questions you can ask yourself to help decide on a theme.
1. What Are Your Interior Design Preferences?
You already have some interior design preferences that make your living space feel like home, no matter where you live. You could have a rustic kitchen table and household decor because you love the vintage look of old wood. Stick with that theme for your wedding. Go for antique decor and classic flowers, like roses. Look around your home and imagine how your furniture could translate into wedding decor.
2. How Did You Meet?
Reflect on how you and your partner met. Could you turn that event into your theme? You could recreate the Italian restaurant that hosted your first date at your reception. Maybe you met at a costume party, so you could encourage guests to wear costumes at your ceremony. Thinking about how you met is one of the best questions to ask yourself when picking a wedding theme because it's a sweet callback for your relationship. It will be much more personal than a generic theme idea you find on Pinterest.
3. What Is Your Family Heritage?
Looking back on your family's heritage can be a great first step in determining what your wedding will look like. Whether you actively practise your culture's traditions in your daily life, or you're a bit more disconnected from your ancestors, it can be worthwhile to do some research or talk to family members about wedding traditions.
4. What Will the Season Be?
Following the season is the easiest, and most practical, way to determine your theme. When picking a gown or bridesmaid's dresses, the colour and fabric should go along with the weather. Flowers, foods and venues can also be quickly narrowed down according to the season. You can pick a colour scheme to match the season, too, like cream and blush pink for spring or maroon and navy for autumn. Once you set a date, a lot of your decisions will come with ease.
5. What Is Your Fashion Aesthetic?
You can also pick a wedding theme that aligns with your fashion aesthetic. Someone who prefers dressy clothes with chic designs could make their wedding a formal event with classy decor. Order monogrammed reception napkins, write your signs in calligraphy and carry your theme with gold metallic accents to define your wedding's style without being too over-the-top.
6. What's Your Favourite Food?
Wedding themes often have names, but you don't have to define your concept by a style. Pick your favourite food and plan everything from there. If you prefer seafood, an outdoor summer wedding would fit the vibe. If you love warm drinks and holiday treats, consider a winter wedding. It also gives you something fun to do while planning since you'll have to taste test items with your partner before finalising your catering plan.
7. What's Your Favourite Colour?
Choosing one main colour for your event can be a defining step in setting the theme. It will direct your choices for things like what your bridal party will wear and which flowers will be in your centrepieces. Use your favourite colour as inspiration for all your planning decisions and make it the theme for your wedding.
8. What Atmosphere Do You Want?
The atmosphere at your wedding should be something you'd enjoy. It's no fun to feel dressed up in a stuffy venue if you'd feel more comfortable with a laid-back vibe. On the other hand, you might want to feel like royalty on your big day with an extravagant affair.
Pick an atmosphere that matches your personality or wedding dream to get started with the best theme for your big day. It will guide every planning decision and make the experience much more manageable.
9. How Do You Want to Remember It?
Do you want your wedding photos to be a time capsule of who you were at that moment in your life? Go for that spooky autumn aesthetic and the gorgeous black wedding dress that makes your heart skip a beat. Go for a timeless theme with classic traditions and decor if you want your pictures never to look outdated. It all depends on how you want to remember your big day.
10. Do You Have a Dream Venue?
Think about what your dream venue would look like to narrow down your wedding theme options. Do you prefer an indoor or outdoor ceremony? A beachfront reception or an elegant dining hall? The venue can provide inspiration for your colour scheme, menu, gown and more. A beach wedding might lead to nature-inspired colours and a seafood dinner, while a church wedding will inspire a more traditional gown and ceremony.
Pick Your Wedding Theme
Start brainstorming ideas to help you pick a wedding theme. Write down your answers to these questions and reflect on them with your partner. You'll figure out what you like the most and end up with the concept that will make your ceremony spectacular.
Check out our other articles about Wedding Themes
Author Bio: Cora Gold has a passion for writing about life, love and wedding inspiration. As the Editor-in-Chief of women's lifestyle magazine Revivalist, she loves connecting with others and curating the best content, from weddings to travel and more. Follow Cora on Facebook, Pinterest and Twitter.