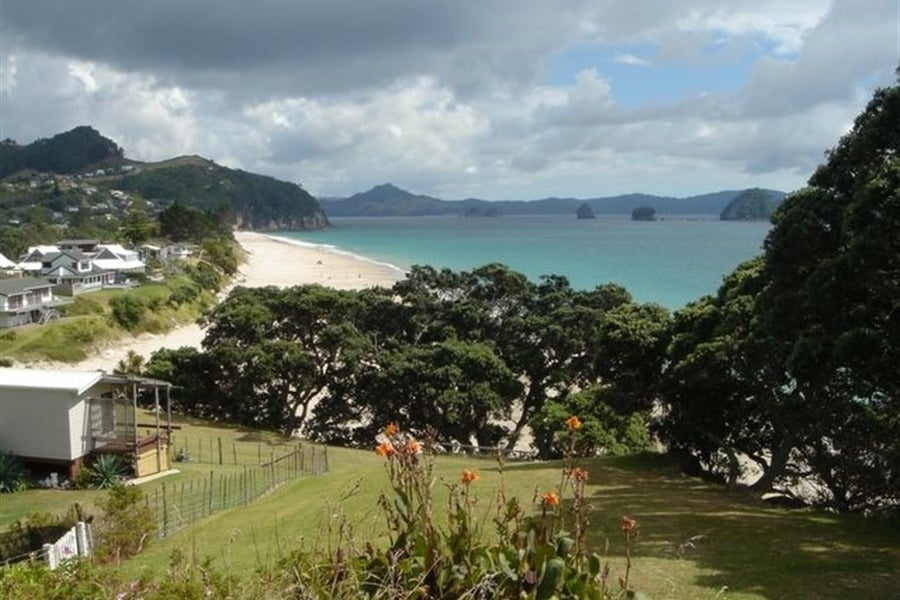 Choosing a romantic and memorable honeymoon location in New Zealand doesn't have to be difficult. The only challenging part is picking a place that both of you will love! Let us help you out, by listing some of NZ's top honeymoon locations for you to pick.
Top 8 New Zealand Honeymoon Locations
The Coromandel Peninsula is a top location for a honeymoon, as it's a great spot to relax and unwind at. Historic Coromandel town offers delicious gourmet food in its many restaurants. It also offers stunning views and has many boutique lodges in which to stay. Cathedral Cove Beach, named after the naturally forming cathedral-like arches there, is a beautiful looking beach where you can go for guided snorkelling tours. At Hahei's Hot Water Beach, you can dig your own spa pool and have a private relaxing dip. It also offers kayaking and hiking.
Auckland is a shopper's paradise. From top-end designer wear to open-air street markets, various cafes, exotic restaurants and happening night-life, there's plenty on offer. You could dine at the 360 degrees revolving restaurant at the top of the Sky Tower and walk through beautiful lava fields and forests to the summit on Rangitoto Island on the same day. Waiheke Island, a mere 50-minute ferry ride from Auckland city, has a great winery. Scenic tours of the island are available. It also has many secluded beaches, that are just perfect for romantic walks.
The Waitomo Caves offer blackwater rafting which is one of the top adventure experiences that New Zealand provides. Not only that, but the native glowworms are also a prime attraction. These can be seen by taking either as a walking or boat tour through the cave where you'll also see the magnificent stalactites and stalagmites.
The rugged beauty of the West Coast of the South Island provides a spectacular drive through the Buller Gorge where you can visit some of the historical sights of Westland. There are beautiful forests, swing bridges, amusement parks like Shanty Town, the Pancake Rocks at Punakaiki, the Cape Farewell seal colony as well as stunning views of the Tasman Sea and the Paparoa National Park to enjoy too.
Fox Glacier is one of the most popular honeymoon locations. Favourite activities there include Heli-hiking to Fox Glacier, skydiving, beach and lagoon walks along the sea and through natural forests. A visit to the highest peak in the Southern Alps Mountain Range Mount Cook and the other alpine glaciers and mountains are well worth the trip too.
Milford Sounds is a famously picturesque tourist attraction. The beautiful fjords are a naturally romantic location, with beautiful scenic drives along Milford Road and a fantastic view of the 1000m high Mitre Peak rising out of the water.
Queenstown is New Zealand's adventure capital. There's so much to do, from spending time in the snow skiing and snowboarding, jet boating on the Dart River, some of the locations where The Lord Of The Rings was filmed to taking the highest bungee jump in Australasia. If you're looking for adventure on your honeymoon, Queenstown is the place to visit.
Rotorua is the geothermal centre of the country. There are plenty of hot pools to relax in, including the Mineral Pools at the famous Polynesian Spa and the Mud Baths at Hell's Gate. For a couple who want a luxurious honeymoon in Rotorua, you can't go past the prestigious Lake Okareka Lodge. It has luxurious honeymoon suites with private spa baths, gourmet dining, and round the clock butler service for a truly intimate, romantic and most importantly, private honeymoon experience.
New Zealand has a wide range of naturally stunning locations to spend your time with your new husband or wife. Whether you want a place to relax or somewhere full of adventure, New Zealand certainly has some wonderful honeymoon locations! Check out our Honeymoon Destinations category.