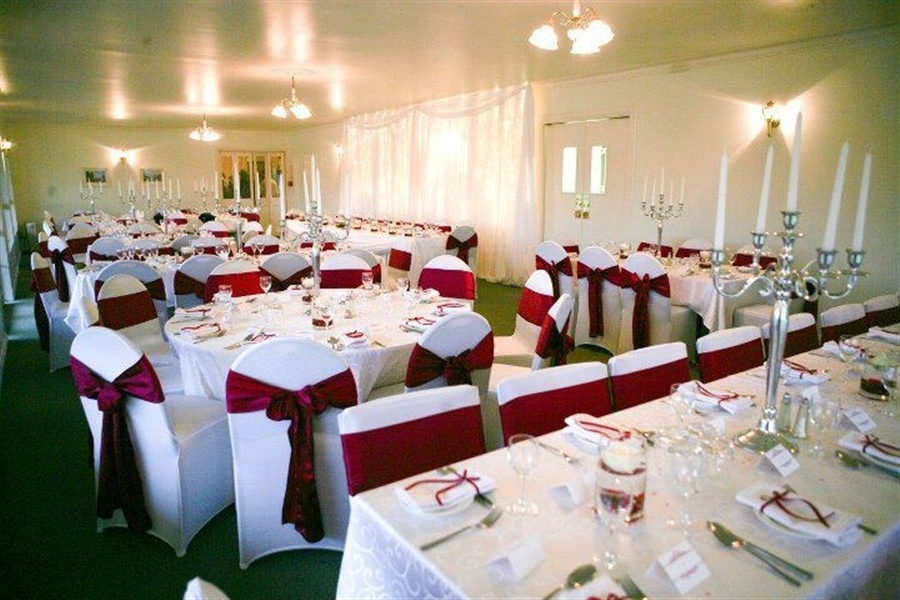 Winter Weddings
Once rarely considered now becoming the "in" thing. Whether it is because Venues are usually more available in offseason and at a reduced rate or with our unpredictable weather patterns ideal conditions are not assured summer or winter.
Not all winter days are cold & wet and not all summer days are sunny & warm. Look for sheltered outdoor spots if you are planning an outdoor ceremony (with the option of indoors if weather changes) and as a courtesy to your guests please state this on your invitations.
Preferably your indoor option is at the same venue so the change can be made at the last minute. If it is at a different location the two locations must be listed on your marriage license application.
Venue: Visit possible venues during July and August so you will get a good indication of what you can expect for your wedding the following winter.
Look for premises with covered decks, photo opportunities indoor & outdoor. Ideally, an Open Wood Fireplace creates a wonderful ambience. Check the heating options.
Venues with clear drop-down outdoor curtains & gas Patio heaters are great for allowing your guests to circulate.
Ideally, have your ceremony & reception at the same venue.
No matter what month of the year planning for all weather conditions saves any disappointment on your wedding day. Plan for the worst, then celebrate the best.
Photographers: More readily available and possibly offer a discount. No squinting in the bright light of summer. Choose a venue that has outdoor photo opportunities handy to the reception so if there is a break in the weather you can slip out for more shots without disturbing your reception. Sunset photos can be dramatic. Lighting is important whether it be natural light or introducing artificial light. Your experienced photographer will be happy to discuss these points with you. Make a time in the days before the wedding to check ideal spots for photos at your chosen venue.
Take care to choose the right time for your ceremony in the winter to allow time for photos before the light is lost. Discuss with your photographer the best time & how long the photos will take. The other option is to have photos taken prior to the ceremony.
Wedding Attire: Strapless gowns are still a favoured choice by many winter brides. Couple with wraps of faux fur, capes and jackets for that extra bit of warmth. Why not be exotic & different and choose a beautiful winter gown.
Remember the bridesmaids feel the cold more than the bride!!
Your gown & accessories can still be the traditional white but why not splash out on those red shoes to match your red bouquet?
Even more dramatic for those brides that don't suit white or cream, winter is the time to make an exquisite statement with a red or scarlet dress or coloured trims.
Dainty white satin shoes are out for a winter wedding so opt for funky gumboots or glamorous white boots
Winter weddings will be favoured for the men with their 3 piece suits. No more sweltering in the sun
Themes: Colour schemes are more dramatic in the winter with a trend towards "jewel" colours or the rustic autumn colours of orange, purple.
Fairy lights, candles & hanging crystals (droplets) are attractive in the daylight of summer but are stunning on a winter's evening to create that romantic look as your guests dine.
Branches sprayed silver and adorned with crystals or sprayed Gold for an autumn theme accompanied with the reds & browns of berries and leaves. Use ribbons to flow your colour theme through to the table decorations.
It could be a Winter Wonderland with a black, white & silver, mid-winter Xmas theme with a glistening white Xmas tree, holly & pine cones. Rustic woodland with branches berries. Take a look at the splendour around you and try to duplicate it in different aspects of your wedding and reception. Your Autumn/Winter wedding is the perfect opportunity to express your creativity and celebrate the beauty of the season.
Catering: Imagine your guests greeted with mulled wine or hot apple cider walking into a room with a blazing open fire. Offer shot glasses of soup or even a hot toddy of rum!!
A seasonal menu of comfort foods, soup to start, heartwarming casseroles instead of the usual meat carvery. Desserts of Sticky Date pudding with caramel sauce, Apple Crumble with warm custard, nostalgic Grandma's Apple Pie & cream.
Honeymoon: What more could be more desirable than winging off to a tropical holiday spot in the midst of winter to bask in the sun?
Or the choice of a tropical island in the Pacific or fly off to Europe for that OE that you didn't quite get to do.
A romantic cruise could also top the bill.