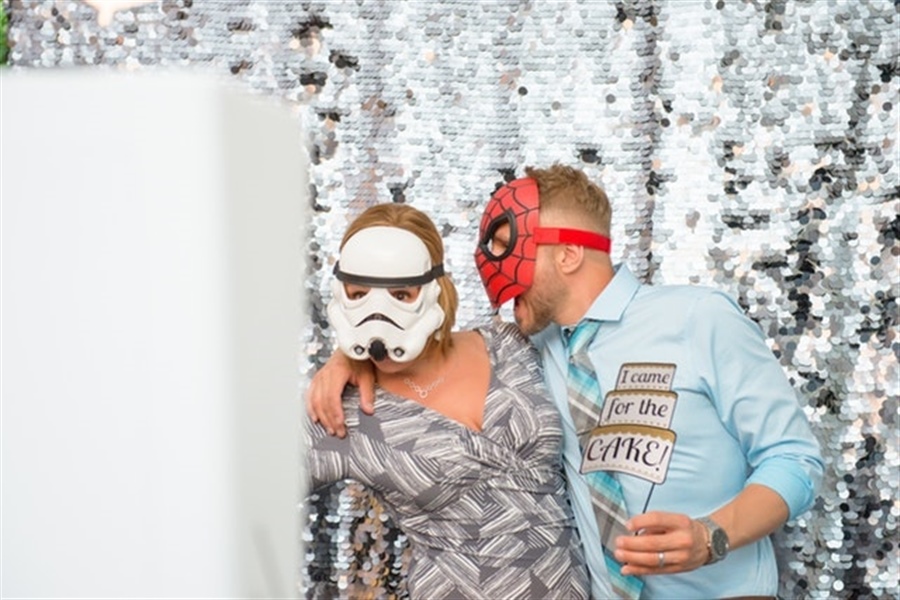 When it comes to entertainment, you can't beat a wedding photo booth. With plenty of businesses offering a photo booth service, it's an easy way to keep guests entertained and give them a wedding keepsake. Most businesses will deliver, set up and pack down the equipment themselves, making the organisation a breeze. Many offer props for guests to use, and some even have an attendant stay with the booth to help when needed. However, we thought we'd share five unique ideas for you to consider for your wedding photo booth.
5 Unique Wedding Photo Booth Ideas
When you're looking for something different, a photo booth fits the bill perfectly! Here are five ideas you and your guests can try when using one at your wedding:
Head in the hole board – either paint one yourself or find a talented friend to do it for you. The board can be painted with any design, but why not use a bride and a groom? Then guests can pretend to be the happy couple.
Picture frames – these could be giant empty frames attached to a wall or used as a prop to hold. Guests can position themselves inside the frames, which can include a hashtag, the wedding date and the names of the happy couple.
Chalkboard – supply a blank chalkboard and chalk for guests to draw and write their own messages upon.
Themed props – this works well if your wedding has a specific theme - such as a colour, or a look - like romantic, rustic or elegant. Supply a range of themed props for guests to use in their photos.
Internal photo booth design – if the photography equipment is portable, consider setting it up inside something such as a Volkswagen vintage van, or even a school bus. Alternatively, you could decorate the inside of the free-standing photo booth with a themed backdrop or props.
Are you still not sure if a photo booth is right for your wedding? Remember that it is another tool to help you capture photos throughout the day. Your wedding photographer will be spending a lot of the day focused upon you both. They'll miss many moments that your guests may experience, meaning you won't know about them either. As well as printing out individual photos for guests, most photo booths will store the photos it takes throughout the event. These are loaded onto a CD, USB drive or cloud storage. This will be yet another beautiful keepsake for your wedding day.
For more information or to book your wedding photo booth, check out our photo-booth vendors available throughout New Zealand.