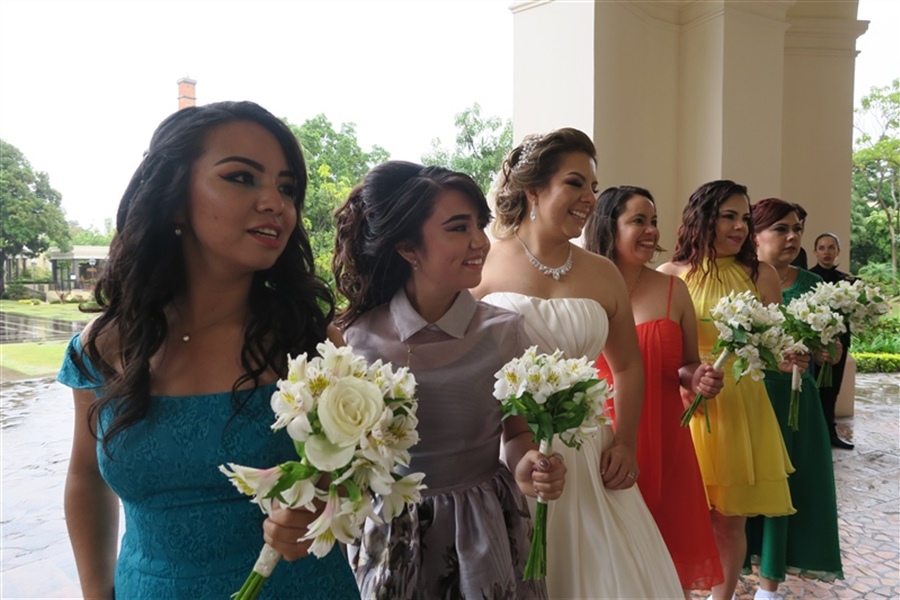 If your ideal vision of your bridal party involves letting your bridesmaids pick their own dresses, then read on! It's true that they won't be matching, but is that the end of the world? Instead, you'll have happy bridesmaids wearing something they like and which suits them. You'll also be one very popular bride! But before you let your bridesmaids pick their own dresses, it's wise to put some guidelines in place first.
Guidelines When Letting Your Bridesmaids Pick Their Own Dresses
It would be fun to give the go-ahead to your bridesmaids, letting them pick the dress of their dreams for your wedding. However, is this a wise move? It's best to lay the ground rules right at the start, letting them know they have the final choice, but that you want some similarities between dresses.
State the dress length – do you want floor length or knee-length? Mismatched lengths just look messy and while they don't have to be the identical length, similar length dresses look much nicer in photos.
Decide on a specific colour – if you want everyone wearing the same colour, say so. Many bridesmaids dresses come in multiple colours. The girls can pick their favourite style, but you get to choose the colour.
Offer a palette of colour options – if you're not fussed on a specific colour, provide your bridesmaids with a range of colour swatches from a colour palette. Then at least you'll know that they will all match each other. The colour swatches will ensure that your idea of aqua is the same as theirs!
State the type of shoes – if you want everyone to wear sandals with a low heel, tell them that. While the shoes don't need to match, if they are similar styles or types, they will look much nicer in photos.
Share your vision – what do you see your bridesmaids wearing? As well as describing your vision, providing pictures or photos is a good idea. You'll find that bridesmaids pick their own dresses love a little bit of guidance to help them make their decisions (no one wants to upset the bride!)
Pre-select a range – there's nothing wrong with letting your bridesmaids pick their own dresses from a specific range you have chosen. They'll still get to choose the style which suits them best, and you'll get to have dresses which work well together.
For more great advice on how to choose and manage your bridesmaids, check out our handy Bridesmaid Tips section; you'll be happy you did!