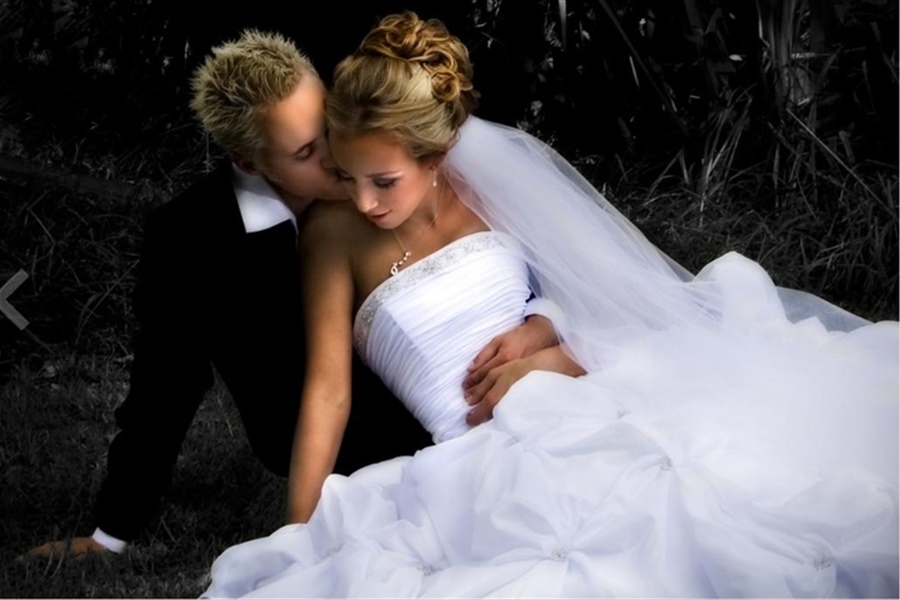 Most of us don't like getting our photos taken and aren't comfortable in front of the camera.
Have fun, fool around a little and you'll find your shyness is usually overcome. Part of the Photographer's job is to help you with this, but it's what you give the camera that will create the results.
Relax, pretend they are not there, and just enjoy each other. That's what a Photographer wants to capture all the feeling and love that you have for each other and the romance, delight and laughter of the day. That's what makes a great photograph!
However the reality is the Photographer is there. While you may not want "posed" photos, along with the spontaneous images, they will direct you in the aim of creating well composed images with good light.
Enjoy the process, have fun and enjoy being the centre of attention. It doesn't happen very often and when will you get professional photos taken of yourselves again?
If you have a "best side" or a comfortable side, or are conscious of particular body areas, let your Photographer know. It will help them take images that you feel flatter you. To avoid a double chin, push the tongue up behind the front teeth when you smile.
Practice good posture, throw your shoulders back and hold your head high. Always angle yourself a little, rather than facing the camera straight on, present yourself with pride and it will be evident in the pictures. You may feel silly, but practice posing in a full length mirror.
Rest assured you're not the first bride to be who has taken this approach.
Looking great on the day and looking good in your photographs requires two levels of thought and you need to talk some of the following things through with those who are doing your hair and makeup.
Loose hair over the face may be a style you like but nothing is more distracting and can almost ruin a portrait than hair falling or being blown over your face - especially the eyes.
Take hairclips, hairspray and face powder in your purse bag with lipstick. You have got to keep looking great all day long!
A lot of makeup products have light reflecting illuminates in them. You don't want to use these, as they can make your face look either pale or sparkly in photographs.
Avoid a shiny face by using an oil free foundation with a matte finish and brush translucent powder over your face and neck.
Choose a lipstick that doesn't clash with your bouquet and nothing to glossy. High gloss lips reflect a lot of light and the flash as do body sparkles and glittery eye shadow and can often distract from the rest of the portrait.
A last thought but an important one, on looking great for your day. Consider what you wear prior to slipping into your gown. Many tops and bras leave "skin dents" that you can see when you are in your gown. Choose garments to wear that won't do this.
Share some of these tips with your bridal party, as they are a big part of your photo shoot. Having everyone feeling comfortable with the process will get you those stunning images that you will proudly display. A constant reminder of your beautiful day..